February 16, 2022

Lachie Hiriart

0
How To Start A Handmade Jewelry Business 2022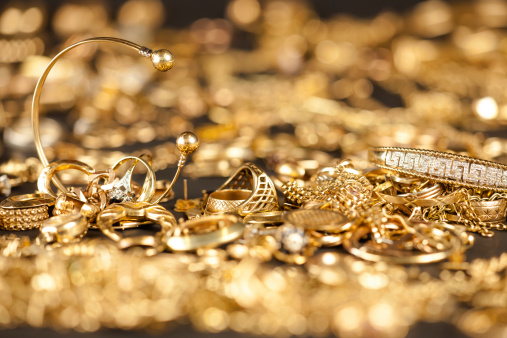 For hands-on creatives who would like to set up a handmade jewelry business, jewelry making is a low investment business. However, no prior crafting experience is required—jewelry is one of the most common products to manufacture and sell on the internet.
Perhaps you're "Do It Yourself" limited but have a fantastic online business idea and an audience and are seeking a unique approach to making money. If you're looking for ways to generate money online, we've put together a guide to assist you in getting started.
Mastering how to start a jewelry business at home or elsewhere presents its own set of concerns and challenges, regardless of your drive or skill level. For starters, it's rather congested out there.
In 2018, the worldwide jewelry market was valued at $348 billion, with fashion jewelry accounting for most sales. Although the market is crowded, there is still space for newbies who can fill a need or add a fresh viewpoint to established craft.
How to Start an Online Jewelry Business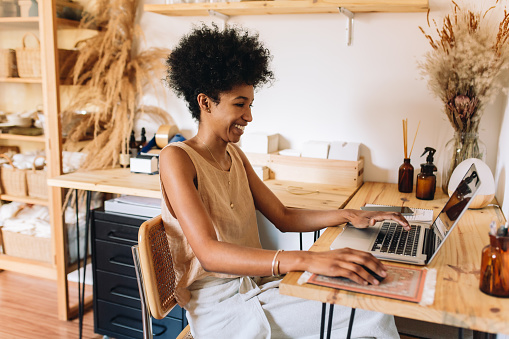 This article teaches you how to sell jewelry and turn jewelry into a productive small business. We'll go through everything you need to know about starting a jewelry business, from idea to layout to manufacturing and sales.
First steps on how to start a jewelry business
Among the first things you should ask yourself is; fashion or fine? Or perhaps your passion lies somewhere in between. Each group has its own set of materials, manufacturing process, price point, and target market;
Fashion or costume jewelry
Usually fashionable
Made of low-cost materials and metals like wire, beads, plastic, plated metal, synthetic gems, and so on.
A more affordable price point
It is mass-producible.
For the common customer
Fine jewelry
Made up of precious and semi-precious metals and gem stone
A more expensive pricing point
Made with great care and attention to detail and rarely mass-produced.
Customers interested in luxury, weddings, or special occasions
In-between
This group includes everything else, from jewelry manufactured with mid-range materials to jewelry made with high-end materials (metals, textile, semi-precious gems, 3D printing, wood, etc.) to jewelry that is considered art (custom-made, collectible, one-of-a-kind) or high-quality craftsmanship.
Design and individuality are emphasized.
The price range varies, but it is normally towards the midrange.
Collector/design-savvy/gift-giving consumer, special event
It's time to figure out a specialization (jewelry line) for your startup jewelry business after you've narrowed down the broad category. Begin by identifying your target client (trendy, classic, socially conscious, brides, etc.) and determining whether your items are occasion-specific (party, wedding, every day, etc.). This will influence how you promote them to your target audience.
Jewelry trends
Exploring trends is one approach to figuring out which path you want to go in, and it's a crucial step in learning how to start your own jewelry business online. To remain on top of trends for each forthcoming season, read jewelry and fashion blogs and news sources and track influencers in the field. You can also examine the overall web search volume for a term using Google Trends.
You might also look into related consumer habits or trends, such as the need for ethically sourced products or personalized experiences. Also, you don't have to play catch-up; you can also start your own with your jewelry business.
Getting ideas for jewelry designs
A strong aesthetic, innovative design and consistent branding are essential for rookies in any aspect of the fashion/jewelry industry. Run through a few tasks to identify your overall distinctive style before engaging with a designer to create your branding and before producing specific pieces.
You can create your digital mood boards, set up Pinterest boards, use a jewelry design mobile app, or even physically collect inspiration in a sketchbook or bulletin board, depending on how you choose to get encouraged.
Gather colors, textures, and images from nature, fashion, architecture, and travel, and then look for themes.
Create a jewelry brand
Keep in mind that branding is not the same as branding. Your brand is defined by your mission, voice, vision, and story. It expresses how your customers feel about your business. Emerging businesses may win customers by engaging personally, as fashion buys are usually dynamic. Share your story on your About page, including yourself in your social media posts, and explain how you came up with your designs.
Branding: Logo, packaging, and website creation for your jewelry brand
The next step in starting a handcrafted jewelry business is to develop the specifics of your business brand. The more strategic aspects that visually add value to your business—packaging, logo, and website—are referred to as branding.
It should be easy to identify an overall appearance that will distinguish your business once you've defined the aesthetic of your products and nailed down your customer profile. Don't rush this phase, especially if you're running a small business.
If you want to learn how to make jewelry a profitable business enterprise, you don't need to build a complicated and expensive website. Instead, on the low-end, you may create a simple Shopify store with a freebie theme and make your logo using a free online logo builder.
If you need some help coming up with domain name ideas, other tools are available to assist you. Keep in mind that you'll need to set up a fund for professional product photography. It's simple to see how to start a jewelry business from home using these resources.
Working with a designer to develop your concept into a whole branding package for your business—from the website and logo to marketing and packaging materials—is a good idea if you have a bigger budget.
Make a business plan for your jewelry brand
If you don't expect to sell your idea to financiers or seek other types of outside funding right away, a formal business plan may not be essential. However, it may be a useful exercise in determining your business model, target consumer, cost, objectives, and growth strategy. It'll also come in handy as you master how to run a jewelry store.
Jewelry making (production phase)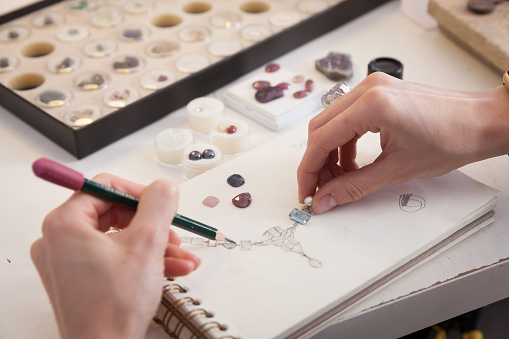 What would you need to know about jewelry making? The complexity of the design, materials, pricing point and requisite skillset will determine whether you produce your products in a factory or by hand, outsourced or at home. We'll look at four different ways to make jewelry in this phase;
Handmade jewelry production (fine and one of a kind)
Handcrafted jewelry production (costume or fashion)
Jewelry production (factory contracted)
Print-on-demand jewelry production
Handmade jewelry production (fine and one of a kind)
Handcrafting fine and one-of-a-kind jewelry is one of the most time-consuming yet adaptable and personal production techniques. Depending on design and materials, some methods of fine and "one of a kind" jewelry creation necessitate specific certification or training and costly equipment. You may have to master some of these approaches if you want to learn how to establish the business, including;
Gemstone setting
Soldering
Weaving
Goldsmithing/Silver
Leather tooling
3D printing
Casting
Laser cutting
Kickstart with free online courses if you're unsure which path you want to take. Once you've decided the field you wish to pursue, you can either pay for classes or work as an apprentice under an established craftsperson to broaden your knowledge.
Handcrafted jewelry production (costume or fashion)
There are other ways to learn how to start a handmade jewelry business without devoting time and effort to learning new skills. For example, handcrafted costume jewelry commonly entails the combination of pre-existing elements—wire, chain, cast pendants, beads, and so on—and does not necessitate any additional training or tools beyond simple hand tools.
This type of business is easily scalable because you can buy components in bulk and design patterns for assembling by hired production employees.
If you enjoy the production and design aspects of your business more than the actual process of making jewelry, employ or outsource other tasks to help you grow the creative work.
Jewelry production (factory contracted)
You can have your designs made by a jewelry designer rather than producing the jewelry yourself. While this isn't suitable for fine or custom jewelry, it can be cost-effective for trendy mass-produced jewelry. If you want to learn how to establish a jewelry business from home, you have two primary alternatives for outsourcing;
Overseas manufacturing
The benefits include;
Cost-effective
Usually, there are more possibilities in terms of processes and equipment
Scalability to bigger volumes
The drawbacks include;
Limitations to communication (language, time zones, cultural)
There is less supervision and regulation
Minimums could be rather high
Ethical and manufacturing standards may vary by country
Local manufacturing
The benefits include;
"Locally made" appeal
Shipping may be faster or more reliable.
Relationships are easier to form, and reputations are easier to check.
More opportunities for supervision
The drawbacks include;
a higher price
There are fewer options (limited materials, fewer manufacturers)
Volumes of production may be restricted.
If you're contracting to a manufacturer, you'll need 3D renderings or exact sketches of your designs. Depending on your budget and skill level, you have numerous possibilities;
Manual design tools: jewelry design templates, sketch paper, and pencils.
3D or 2D standard design software: Sketchup, Illustrator, Photoshop
Jewelry-specific design software (suitable for fine jewelry): MatrixGold and RhinoGold.
Print on demand jewelry production
Exporting your designs to print-on-demand software is the most hands-off approach to production. Your unique ideas are 3D printed or replicated in stainless steel, plastic, wood, silver, or gold and supplied to your consumers directly.
What is the best way of developing a jewelry business workspace or studio?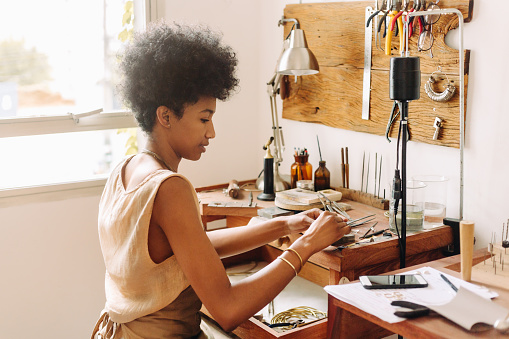 You'll need a workshop space for you and your employees if you decide to produce the jewelry in-house. Take this into consideration when designing this space;
Maneuverability: Consider the flow of the area, especially if there are numerous steps in the assembly—do you go from one point to the next in a concise way?
Safety: Some jewelry-making instruments or chemicals necessitate proper airflow and safety measures. Check with your local authority to see what laws apply to the usage of these chemicals and practices.
Storage: For small parts, well-structured multi-compartment storage is needed.
The most significant elements would be a jeweler's bench, a flex shaft, and your safety. The flex shaft is an excellent and adaptable tool for finishing, drilling, and polishing your products. Safety goggles and a face mask should be used, and long hair should be pulled back, so it does not get stuck.
Consider renting commercial space if your production team is big or your needs are more sophisticated, such as silversmithing workshops or metalwork. Consider exploring co-op studio space or sharing the price of space and tools with other innovators if it's out of your reach at the start.
In entrepreneurship, you may experience loneliness from time to time. But on the other hand, space sharing can help entrepreneurs feel less lonely.
Jewelry tools and equipment
Online resources for learning how to make jewelry online include wholesale jewelry manufacturing equipment, supplies and tools, and raw metals and precious gemstones.
For wholesale suppliers, word of mouth is a powerful tool. As a result, don't be hesitant to inquire about where other jewelry designers get their products.
Photography for jewelry brands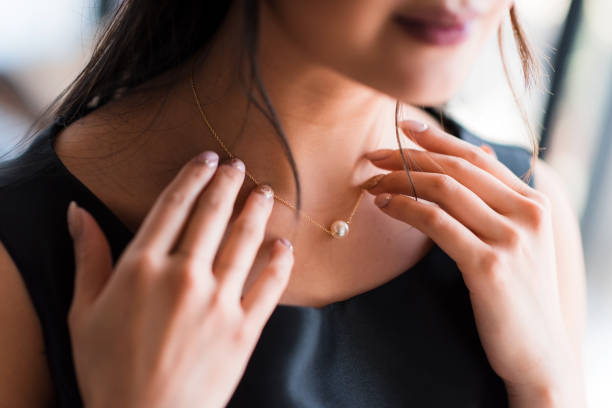 The value of product photography cannot be overstated, as it has the power to make or ruin your online store. So, if you want to learn how to establish an online jewelry business, you'll need to sharpen up your product photography skills.
You can get amazing DIY images of your products with a quite simple lighting configuration in many circumstances, even with your cellphone. Due to the little intricacies and reflectivity, jewelry, on the other hand, can be a little more tricky to figure out.
Even if you're on a tight budget, you mustn't skimp on photography. A professional photographer knows how to make models feel at ease and set up sophisticated lighting. Make-up artists, stylists, and assistants are all good additions to your photographic team.
It is not necessary to spend a lot of money to hire models. People who are eager to expand their book or are glad to engage for a product are constantly available. It's not about exploiting others—you're all learning the game. You can work together to create magic if you form a group and team up.
Within these two categories, it's also essential to present numerous distinct angles and views of your products while capturing your photos;
Detail/product shots taken against a plain background reduce distractions and highlight the piece's intricacies and various angles. These photographs can help create a clutter-free, good layout on collection pages.
Consumers can be nudged to combine several items into one look by using lifestyle photographs filmed on a model to illustrate the size of the body and propose styling options. This is typically helpful for upselling, and you can urge customers to incorporate multiple pieces into one outfit. These images are better for posting on social media platforms and can be used on official websites or galleries.
Are you looking for more methods to save money? To save money on photography, collaborate with related apparel brands or offer your products to fashion editors for photo sessions in exchange for product images and visibility.
Using an ecommerce platform to create your own online store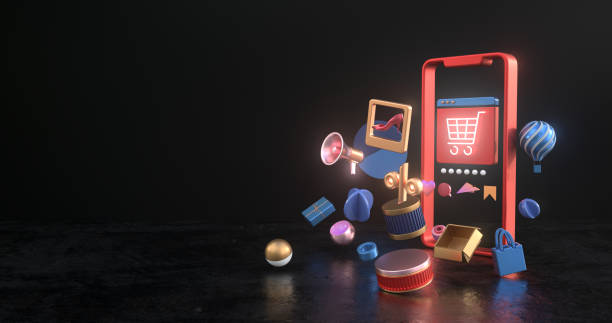 Because of the multiple ecommerce platforms, integrations, and apps available, creating an ecommerce website is now easier than it ever was. Ecommerce platforms are created to create an online store as simple as possible. BigCommerce, Shopify, WooCommerce, Wix, and Squarespace are the most popular ecommerce platforms.
Launch an Etsy store as an alternative to developing your own website, although it's best for made-to-order and handmade jewelry items. It's also more difficult to obtain traffic and visibility to your Etsy store because it's a marketplace. In addition, because customers won't remember your brand, only purchased on Etsy, Etsy receives the 'credit' for sale.
You can also do your jewelry sales in an analog manner. Begin by marketing to your family and friends, and allow word of mouth to spread your brand. You can also set up craft fairs and shop at a flea, or contact local retailers and ask if you can sell your jewelry contract or set up a pop-up shop.
Make sure you create business cards ready to hand out at the register that includes references to your social media outlets and the online store.
Apps for jewelry business
You may add a variety of apps to your site to aid with how to manage a jewelry business—everything from reducing returns to improving customer experience and increasing conversions. Here are some suggestions for jewelry enterprises;
Loox – Photo Reviews: Gather and publish consumer photo reviews on your website with Loox.
Kiwi Size Chart and Recommender: Build branded size charts to assist clients in making knowledgeable purchases.
Jewelfie: Shoppers can "try on" jewelry by posting images of themselves.
SNPT's Instagram shop: Make a shopping portfolio from your Instagram feed.
Jewelry business marketing strategy
For any new jewelry business, acquiring potential customers to make your first sale is a task. Direct your marketing to the people who are most inclined to buy. While you're concentrating on growing your customer base, establish a multi-channel promotional strategy based on the information you've gathered, including information on your competition.
It would help if you used as many channels as feasible, such as;
Email marketing
Email marketing isn't obsolete, despite popular opinion. On the contrary, one of the most effective strategies to keep your business top of mind and enhance customer retention is to build an email list.
However, be aware that sending several emails to clients will saturate your list and result in a high percentage of unsubscribes, so make sure to adhere to email marketing guiding principles.
Paid Ads
Many of today's world's biggest ecommerce companies evolved out of marketing campaigns on platforms like Instagram, Facebook, and Google Ads. Although advertising expenses continue to escalate, it is still a relevant channel for jewelers.
If you want to create a campaign, take the time to fine-tune your consumer targeting to show your advertising to individuals who are most inclined to buy. Also, choose your channels carefully – what works well for other enterprises may not work well for you.
Social media
Before making a purchase, customers enjoy researching products and reading reviews. In addition, you may showcase what keeps your brand unique in social media channels.
For example, if you're interested in sustainability, write about how your products benefit the environment and include relevant tags in your postings. Is it possible to wear your jewelry while exercising? Post photos and videos of people that wear your jewelry while exercising.
Search engine optimization
The ultimate traffic is free. However, ad expenses continue to grow as more online businesses rely on social media marketing to generate sales.
Your product listings, videos, blog entries, tutorials, and other types o22f owned content can appear at the top of search engines with a smart SEO plan, resulting in greater visitors without intensifying your ad expenditure.
Use services like Google AdWords or Moz to locate keywords with a higher conversion volume and low competition while looking for the proper keywords to drive organic traffic.
SMS marketing
Despite its infancy, SMS ecommerce marketing is a constantly rising channel for online sales and businesses. You can almost say with certainty that everyone on your SMS target audience will see your promotions and messages with receptive rates as high as 95%.
Get licensed
Then, to ensure that you're operating your jewelry business legally, you'll need to meet all legal bases. First, check with your local clerk's office regarding permit and licensing requirements for a home-based business if you plan to operate your business from your house.
After you've decided on a business name, you'll need to choose a business entity and file it with your secretary of state. The easiest approach is to start a business as a sole proprietorship, which doesn't need state enrollment.
However, you'll need to register your business name as a "doing business as," unless you're using your legal name. On the other hand, a sole proprietorship will not safeguard you if your business encounters legal challenges.
Registering your company as an LLC is the safest option. Filing as an LLC is a simple process that can be completed in a matter of minutes electronically; for more information, see the SBA's step-by-step manual to registering your enterprise.
Furthermore, LLCs safeguard your financial property from business-related legal difficulties and make tax filing easier.
It would help if you also thought about getting business insurance at this stage to protect yourself even more. Start by looking at product liability insurance, which protects firms from legal ramifications if their product injures a consumer or other third party—also, general liability insurance, which covers a variety of legal claims.
In addition, if you hire people, you'll need to check into things like state disability insurance, unemployment insurance, and workers' compensation.
Finally, you may choose to register a trademark for your company name, designs, and logo with the US Patent and Trademark Office, which can be done instantly online.
Open a business account
It's important to begin separating your personal and business finances now that you're a legally running business. This is important for a variety of reasons. First, account separation will protect your personal finances from enterprise legal complications and organize your tax-filing operations.
Register a business bank account and use it exclusively to deposit business rewards. You might also want to consider getting a business credit card to utilize for your company's minor, daily costs. In addition, contingent on the card you use, you may be able to earn important points, cashback, or rewards that you can recoup and invest back into your business.
Final thoughts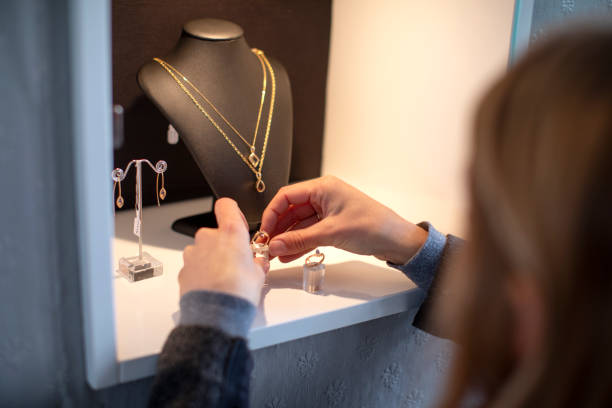 Establishing a jewelry business is an exciting venture, and starting successful jewelry businesses has never been easy, but that doesn't imply it's without its problems. For example, you may find it difficult to keep up with significant customer demand as your jewelry enterprise grows. If your business reaches this stage of development, it may be time to contract ecommerce fulfillment.
The project doesn't end after your jewelry enterprise is established; in fact, it's only getting started. But don't get so caught up in the financial side of things that you forget why you began your business, Your passion for the craft, which the most successful entrepreneurs never cease honing.
Consider furthering your training with in-store or online classes, even if you're a skilled jeweler. If you don't want to spend money on infrastructure, you may discover good jewelry-making lessons for free on YouTube.
Be aware that establishing a business, even if it's simply a side hustle, is a time-demanding endeavor. So make a serious effort to create time to devote to starting and maintaining your business. Even if it's an hour daily to work on a piece of jewelry, make a few online contents, or review your sales reports or product promotion performances if you're serious about your enterprise.
For more information on how to start a business Entrepreneurship Group has a number of informative article to help guide you through your entrepreneur journey!
Here are some helpful articles by Entrepreneurship Group to get your business off the ground:
1.Business Structure:
What is Entrepreneurship? 2022
Entrepreneurship: How to start a business in 2022
11 different areas within a business
How To Learn About Business 2022
Blueprint For Success Business 2022
2.Business Planning:
How To Write A Business Plan 2022
How To Evaluate A Marketing Plan 2022
How To Create A Professional Online Presence (2022)
How To create a business profile 2022
3.Business set up:
How to decide on a business name? 2022
Low cost Business Name registrations 2022
Best Domain Name Providers 2022
8 Best Accounting Software Programs For Small Businesses 2022
11 Best Project Management Software Programs for Businesses 2022
9 best Staff Management Software Programs for Businesses 2022
27 Best Web Hosting Services for January 2022 (Providers Ranked)
7 Best Landing Page Builders 2022
4.Business managing:
How To Increase Revenue From Existing Customers 2022
How To Manage A Creative Team (2022)
9 Best email marketing software tools 2022
4.Entrepreneur Health and well being:
Simple Healthy Diet Guide For Business Owners 2022
Exercise Guide For Business Owners & Entrepreneurs 2022
How to Meditation guide for business owners 2022
20 best supplements for memory improvement 2022
Founder of Entrepreneurship Group, Lachie Hiriart