March 3, 2022

Lachie Hiriart

0
How To Start A Skincare Business In 2022
One of the world's most profitable industries is skincare. According to experts, it is currently estimated to be worth roughly $200.25 billion by 2025. This is a great opportunity for budding entrepreneurs who want to launch a skincare line.
Whether you're selling masks, moisturizers, exfoliators, or skin-tightening products, consumers who want to look their best and enhance their confidence will always be interested.
Plus, with so many people trying to boost their self-esteem after days or weeks of being at home, now is an excellent moment to learn how to launch your own skincare business.
Guidelines on starting a skincare business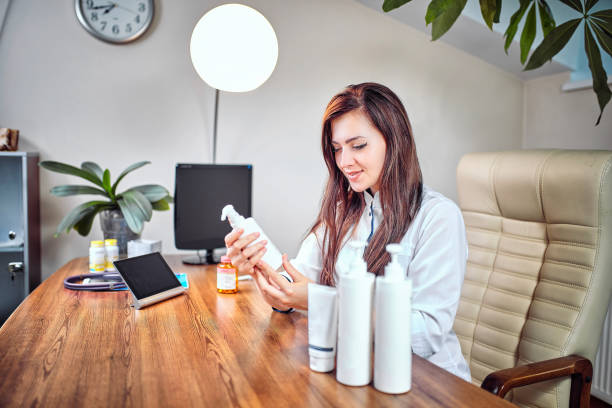 Below are the guidelines on how to start a skincare line from the start to the end, with helpful tools and guidance for launching a successful skincare business;
Make a business strategy
Identify your target audience
Recognize market trends
Comply with all legal requirements
Learn how to formulate and manufacture skincare products
Determine your specialization
Select a hero product
Locate a manufacturer
Make your skincare brand
Create an online shop
Promote your Skincare product line
Make a business strategy
A well-thought-out business strategy is required for any entrepreneurship adventure, and the skincare industry is no exception. Your consumer base, competition, finance needs, costs, estimated earnings, and how you intend to implement your ideas will all be outlined in a complete business plan.
Before handing you money, investors or banks will want to examine your company plan. As a result, it is beneficial to have a well-developed business plan to obtain the funds you require for your company.
Identify your target audience
Understanding what your clients want can aid in the development of effective skincare products. Decide who you want as a consumer and what they are interested in. Are they looking for products that are organic and made with natural ingredients? Clean ingredients or sustainably derived ingredients? Is anti-aging more important to them than concealing previous skin damage? Customers should be the focus of your products.
Recognize Market Trends
Stay updated with the beauty industry and skincare market developments in addition to your initial research. The skincare sector is changing at a rapid pace. Hyaluronic acid for anti-aging, niacinamide for inflammatory relief, and retinol for skin evenness were formerly unheard of but are now all the trend. Ascertain that your line of products incorporates the most recent market trends.
Comply with all legal requirements
It's exciting to launch your skincare line. You'll certainly be anxious to start mixing the ingredients and finding the right packaging. However, there are some laws you'll have to address first.
Your items must be safe to use and appropriately labeled for consumers. To begin, familiarize yourself with the Food, Drug, and Cosmetic Act (FD&C Act). The FDA uses this regulation to ensure that all skincare products meet the necessary safety and quality standards.
Essential to follow the FDA's Good Manufacturing Practices checklist if you're creating skincare items at home. This will help you build up your production line according to the criteria for making cosmetics at home.
Also, think about any documentation or licenses you'll need to safeguard your business. If you're not certain what's best for your company, consult an attorney about:
Insurance for product liability and professional liability
Licenses for skincare and cosmetics (as well as professional service license)
Safety and health certifications
Learn how to formulate and manufacture skincare products
Making items manually at home, hiring a dedicated production area, partnering with a lab to make custom products, or collaborating with a beauty producer on a private label method are all options for producing products.
Facial oils and other simple formulas can be created at home.
However, to make cosmetics in the United States, you must follow FDA rules for air circulation, air surfaces, and control. While your manufacturing procedures should follow FDA regulations, organizations that manufacture in spurts have a lot of flexibility. Mobile clean rooms, which are just pop-up tents, are built specifically for this purpose and are good for small firms.
Experimenting with formulations can make you realize the attributes you're searching for in a composition (appearance and scent) and put you in a better position to have informative talks with your manufacturer.
Determine Your Specialization
Skincare is a massive industry that includes anything from sunburn to cleansers, moisturizers, cosmetics, and many other items. To discover a specialized market for the things you'll sell, you'll need to narrow down your focus. For example, the "Lush" skincare line creates environmentally friendly goods for people concerned about their ethics.
Consider the types of items you'd like to sell, such as skin creams, acne treatments, exfoliators, serums, moisturizers, and face oils. Next, consider what will set your product apart from the competition and who your unique selling feature might appeal to.
Here are some skincare specialty examples to help you come up with concepts for your line:
Luxury Skincare: High-quality components are used to create indulgent products and treatments. You might make clinically proven tested treatments, such as face masks with gold flakes, for customers with a greater budget.
Specialist treatment: These items are designed to address a certain skincare problem, such as acne or dry skin. You may make sunscreen for individuals who have sensitive skin and serums for greasy skin.
Socially conscious skincare: Skincare made with natural, socially aware products appeals to today's audience. Choose a vegan brand or a product that does not test animals to appeal to a more environmentally conscious audience.
Select a Hero Product
You'll add new goods to your portfolio as your skincare company expands. To begin, you'll need a unique item to attract customers' attention. This will be your signature, or "hero" product, as it is known in the skincare industry.
When your company first opens, your hero item is a fascinating item you have to offer. Consider which item could serve as the face of your new skincare line. One strategy is to select a product that addresses a specific consumer pain point.
Defining your company values and message is another technique to discover your hero product. If your skincare line is entirely cruelty-free, ensure your hero item is as well. Choose a product that fits the image of your company.
Locate a Manufacturer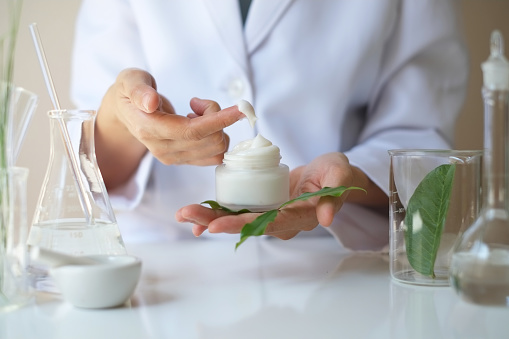 You'll need a renowned manufacturer unless you're creating all your skincare items at home. When you're designing your line, finding the appropriate manufacturer can relieve a lot of stress.
A reputable manufacturer will be able to produce your things in large quantities, speedily, and to the greatest regulatory requirements, allowing you to focus on growing your brand. All you have to do now is make sure you're working with a reputable organization.
Choosing an overseas manufacturer, on the other hand, provides you access to a greater selection of products at a lesser cost. It is, however, critical to thoroughly vet your supplier.
Consider the following:
Compliance: Are the manufacturers you want to work within compliance with the safety and health regulations in the countries where you wish to sell? Check to see if they have the necessary licenses and what ingredients they use to make their items.
Shipping: How fast can your producer manufacture and sell your goods? Working with foreign companies may be less expensive, but it's not good enough if your consumers have to wait for months for their orders.
Expertise: Does this provider have a large selection of products that are appropriate for your selected niche? What is their experience in this field?
It's also worth investigating the level of customer service available. When you have questions or problems about a product, how long will you have to wait for a response?
Make your skincare brand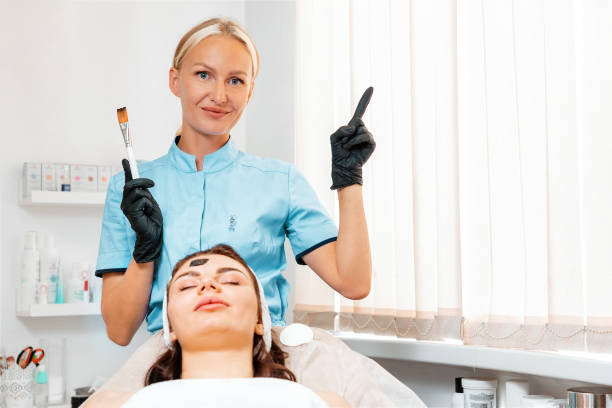 When it comes to branding your skincare line, one thing to have in mind is that most private label producers will only help you with the production process, packaging, and graphics; they will not help you with branding. Your skincare business will be a mix of everything you do to differentiate yourself from your rivals.
This encompasses your line of products and your packaging, graphics, logo, and even the name of your company. Customers form relationships with your company and the character you create for your company, not just with your product.
The following are the key steps in developing a brand:
Choose a company name
One of the most distinguishing features of your brand is your company name. Ideally, you should pick something that corresponds to your company's values. Organica Beauty, for example, might be the name of an organic skincare company. Keep your name brief, basic, and easy to spell. Before you use a name, be sure it's available. Check availability and obtain name ideas with these business name generators.
Make a brand identity
Your logo will be the first brand asset that customers recognize after your name. Your company's core principles will be distilled into a single view by a good logo. A luxury skincare line might employ diamonds as a symbol of luxury, whereas an organic line might use leaves to symbolize nature. Don't just start a business and give it a name; take the time to create a brand vision, a concept, and a solid foundation for your company to stand on.
Create excellent product packaging
Your packaging should reflect your brand while also safeguarding your goods. Pick something you can personalize with your company's colors and branding, but make sure the packaging is suitable. Unique, lightweight, and environmentally friendly product packaging is ideal. You might, for example, create a reusable moisturizer pot that also serves as a collectible storage bin for your customers.
Create an Online Shop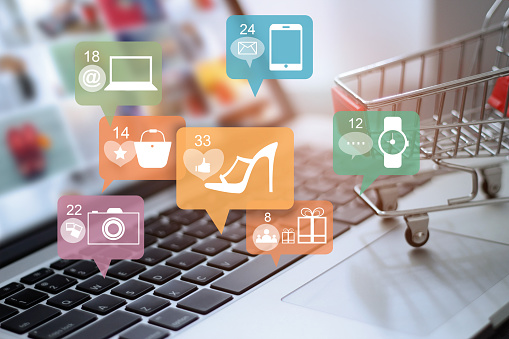 Now that your brand and product are set to go to market, it's time to set up your online store.
The great news for today's skincare businesses is that online stores make it simple for anybody to start selling items online. For example, Shopify allows you to create an online store without technological knowledge.
Create a Shopify account, select a theme, and customize the layout of your store to match your brand. Although the specific pages you want for your store may vary, most businesses will require at least the following:
About page: Create a page where you can introduce your business to your consumers and provide the unique selling features that distinguish your items.
Product pages: Use great imagery and amazing product descriptions to showcase your products. Make sure you understand what keywords your consumers use to find your products on the internet so you can include them in the proper product listing.
Marketing tools: Include an email newsletter registration form on your website so you can maintain customers who aren't ready to convert right away. A blog with backlinks to your social media profiles is beneficial for online marketing and community building.
Accessing software and plugins for your store might help you boost the effectiveness of your skincare website even more. Examples are lookbook, Limespot personalizer, easy video, Decorative cosmetics try-on, swatches, and so on.
Promote your Skincare product line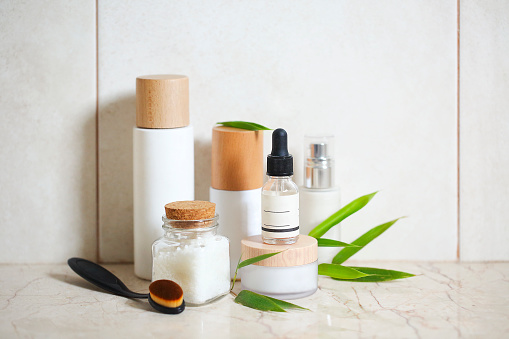 It's now time to get your stuff in front of the proper customers.
There's a high level of rivalry out there for new skincare firms as the industry grows. With the correct marketing approach, you should stand out from the crowd and attract the clients who are most likely to profit from your product.
Consider what types of marketing products are most likely to attract your target audience and where they are almost certain to see your adverts using your user personas. Younger viewers, for example, are more likely to search TikTok for skincare items, but older audiences may choose Facebook ads or local TV.
Once you've determined where your advertising are most likely to be seen, try out some methods that have been proved to work in the skincare and beauty industry, such as:
Social proof: It's no secret that customers look at product reviews before purchasing. Encourage your current customers to provide product evaluations and testimonies to help persuade potential customers to believe that the time they spend using your skincare products is worthwhile.
Influencer marketing: Establishing a relationship with the proper influencer will immediately boost your brand's credibility. Take a look at the types of people your clients already trust on the internet and see if you can partner with them. To develop trust by association, you can give your influencer associates free items in return for an honest review or join with other complimenting beauty businesses on giveaways and competitions.
Customer-generated content: Today's customers have a lower level of trust in brands. Clients will want to see proof of other people utilizing your skincare product before they feel comfortable using it themselves. Reposting photographs of other customers using your facemasks or videos of clients using your moisturizer on social media will provide wonderful social proof. This user-generated material is also a fantastic approach to increase your company's credibility.
Guard your business against liability
You wish to prevent personal liability because your items could have a detrimental impact on a customer. Forming a corporation and purchasing product liability insurance are two crucial steps to protect yourself.
Corporate entity
Forming a legal entity, such as a limited partnership, corporation, or limited liability company (LLC), isolates your assets from your business revenues, losses, and obligations.
Your corporation can be registered with your Secretary of State.
Insurance for Product Liability
Product liability insurance safeguards you against consumer claims for product flaws or damage. You'll want to make sure you're not responsible for personal injury cases since your product comes into contact with the skin.
Legalize your business
You should get any necessary business permits or licenses in addition to creating your organization as a corporation or LLC. Contact your local and state licensing boards to learn more about the criteria.
To file taxes for your business, you'll need an Employee Identification Number (EIN). The Internal Revenue Service allows you to apply for one online (IRS).
Conclusion
Launching a skincare company requires more effort than, say, launching a print-on-demand t-shirt company. You may launch your skincare line and get the benefits of your new business with adequate study and planning. To learn things like basic chemistry, labeling rules, and dealing with a manufacturer, you'll need to devote time to research. It's also possible that you'll need to make a substantial upfront investment.